Sled Island is one of the most wonderful times of the year for the Calgary entertainment community. From June 20–25, downtown Calgary will be overtaken by over 250 amazing live performances. Every year, CJSW gets in on the action as well, hosting dozens of live sessions in our studios that are broadcasted across the airwaves on CJSW 90.9 FM and online at cjsw.com. Tune in to hear some great live music, whether you're at home, in the car or anywhere else out there in radioland. 
Here's a complete schedule of all of our live sessions. Check back every day as we are always adding even more!
---
Click on a date to jump to that day's live session schedule:
---
---
Tuesday June 20
---
Time: Tuesday 2:00 p.m. – 4:00 p.m.
Artist: Peach Pyramid 
Former Calgarian Jen Severtson dives happily into what makes honesty so appealing and vibrant. It's a wonder she didn't grow up with mirages of her guitar on a desert island. Her dreamy melodies and striking vocals are perfectly matched to her latest project, which has garnered attention from the likes of Kathryn Calder of The New Pornographers.
Peach Pyramid plays at Local 510 at 7:30 p.m. on Thursday, and at Central Memorial Park at 1:00 p.m. on Saturday.
Time: Tuesday 4:00 p.m. – 6:00 p.m.
Artist: PHi PHo
Deng Kuot is a multi-talented artist in pursuit of many modes of expression. His work is reflexive and instinctual, relying on a tincture of skills accumulated through electronic music, choir, percussion, clarinet and MCing, among others.
Check out PHi PHo live at the Broken City patio on Saturday at 7:00 p.m. 
Time: Tuesday 4:00 p.m. – 6:00 p.m.
Artist: Sinzere
From Biggie to Toni Braxton, Sinzere's influences are varied, explaining why demolishing different beats seems effortless to her. She switches comfortably between silky flows and poetically-punchy bars to singing like R&B was her full-time gig. Sinzere doesn't need any features to carry a track—they'd probably just block her shine, anyway.
Sinzere will also play the Broken City main floor at 5:30 p.m. on Saturday. 
Time: Tuesday 9:00 p.m. – 10:00 p.m.
Artist: Heart Beach
Even if home is a beautiful island detached from the rest of Australia and the world, there can always be a lingering desire to escape. Heart Beach's music is grandiose enough to take the band anywhere they want—their stadium-rocking choruses and melancholic electric guitar riffs create emotion that's universal.
Heart Beach will also play Local 510 at 9:30 p.m. on Wednesday. 
---
---
Wednesday June 21
---
Time: Wednesday 12:00 p.m. – 2:00 p.m.
Artist: Citysleep
As though floating in a pleasant sea or levitating in the stratosphere, Calgary's Citysleep cut through an ethereality of chilled beats and spacey production with hauntingly pure vocal harmonies. Making their Sled Island debut, this oneiric four-piece are equal parts waking life and walking dream.
Citysleep will also play HiFi Club at 10:00 p.m. on Wednesday. 
Time: Wednesday 12:00 p.m. – 2:00 p.m.
Artist: Un Blonde
Last year, Montreal-based act Un Blonde (aka former Calgarian Jean-Sebastien Audet) released Good Will Come To You, a critically acclaimed album longlisted by the Polaris Music Prize. Intimately layering vocal melodies and field recordings with acoustic guitar strums, the project is a skillful and unlikely intersection between Phil Elverum and D'Angelo, delivering a breathtaking and fleeting reward.
Un Blonde will also play Local 510 (Parking Lot) at 9:00 p.m. on Thursday, and at Broken City at 11:30 p.m. on Friday. 
Time: Wednesday 2:00 p.m. – 4:00 p.m.
Artist: Yao Guai Cave
Yao Guai Cave is an experimental electronic pop project from Montreal. Signed to Pedicure Records, there are clear influences from nightcore and other technicolour trends in the genre's recent history. That said, Yao Guai Cave's output is cheeky and refreshing. Recent demos feature pristine new age sounds, a Spice Girls sample and manic, abrasive percussion. It shouldn't make sense, but it does.
Yao Guai Cave will also play Commonwealth (Downstairs) at 1:00 a.m. on Thursday.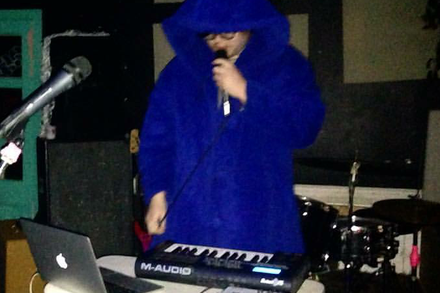 Time: Wednesday 2:00 p.m. – 4:00 p.m.
Artist: R23X
A lonely amnesiac wanders through a science-fiction hellscape, sifting through the remnants of forgotten technology for clues to his salvation. His soundtrack is a glitchy VHS tape containing scrambled ambient noises, disconnected beats and vaporous hints of a nostalgic past. If you close your eyes, R23X brings you along on his journey.
R23X will also play Commonwealth at 9:30 p.m. on Thursday. 
Time: Wednesday 4:00 p.m. – 6:00 p.m.
Artist: Expanda Fuzz
The latest project of Chris Page (Camp Radio, The Stand GT), Expanda Fuzz sees him join his bandmate Leila to make dark, stripped-down rock 'n' roll that lives up to the "fuzz" in the band's name. This two-piece would be equally at home playing to the beard-strokers at a Warhol Factory Party as they would be ignoring their neighbour's angry knocks for making too much racket in the garage.
Expanda Fuzz will also play the Palomino at 9:30 p.m. on Wednesday, and the Ship and Anchor at 3:00 p.m. on Saturday. 
Time: Wednesday 4:00 p.m. – 6:00 p.m.
Artist: Simply Saucer
Your life will change the first time you hear Simply Saucer. Criminally under-recognized, Simply Saucer were working in parallel to some of the best art-rock innovators of the late '60s through the '70s without any direct relationship to the scenes that fostered these musical revolutions. Almost by kismet, the band tread proto-punk, early psych and kraut-leaning jams while escaping the scrut