Sled Island is one of the most wonderful times of the year for the Calgary entertainment community. From June 20–25, downtown Calgary will be overtaken by over 250 amazing live performances. Every year, CJSW gets in on the action as well, hosting dozens of live sessions in our studios that are broadcasted across the airwaves on CJSW 90.9 FM and online at cjsw.com. Tune in to hear some great live music, whether you're at home, in the car or anywhere else out there in radioland. 
Here's a complete schedule of all of our live sessions. Check back every day as we are always adding even more!
---
Click on a date to jump to that day's live session schedule:
---
---
Tuesday June 20
---
Time: Tuesday 2:00 p.m. – 4:00 p.m.
Artist: Peach Pyramid 
Former Calgarian Jen Severtson dives happily into what makes honesty so appealing and vibrant. It's a wonder she didn't grow up with mirages of her guitar on a desert island. Her dreamy melodies and striking vocals are perfectly matched to her latest project, which has garnered attention from the likes of Kathryn Calder of The New Pornographers.
Peach Pyramid plays at Local 510 at 7:30 p.m. on Thursday, and at Central Memorial Park at 1:00 p.m. on Saturday.
Time: Tuesday 4:00 p.m. – 6:00 p.m.
Artist: PHi PHo
Deng Kuot is a multi-talented artist in pursuit of many modes of expression. His work is reflexive and instinctual, relying on a tincture of skills accumulated through electronic music, choir, percussion, clarinet and MCing, among others.
Check out PHi PHo live at the Broken City patio on Saturday at 7:00 p.m. 
Time: Tuesday 4:00 p.m. – 6:00 p.m.
Artist: Sinzere
From Biggie to Toni Braxton, Sinzere's influences are varied, explaining why demolishing different beats seems effortless to her. She switches comfortably between silky flows and poetically-punchy bars to singing like R&B was her full-time gig. Sinzere doesn't need any features to carry a track—they'd probably just block her shine, anyway.
Sinzere will also play the Broken City main floor at 5:30 p.m. on Saturday. 
Time: Tuesday 9:00 p.m. – 10:00 p.m.
Artist: Heart Beach
Even if home is a beautiful island detached from the rest of Australia and the world, there can always be a lingering desire to escape. Heart Beach's music is grandiose enough to take the band anywhere they want—their stadium-rocking choruses and melancholic electric guitar riffs create emotion that's universal.
Heart Beach will also play Local 510 at 9:30 p.m. on Wednesday. 
---
---
Wednesday June 21
---
Time: Wednesday 12:00 p.m. – 2:00 p.m.
Artist: Citysleep
As though floating in a pleasant sea or levitating in the stratosphere, Calgary's Citysleep cut through an ethereality of chilled beats and spacey production with hauntingly pure vocal harmonies. Making their Sled Island debut, this oneiric four-piece are equal parts waking life and walking dream.
Citysleep will also play HiFi Club at 10:00 p.m. on Wednesday. 
Time: Wednesday 12:00 p.m. – 2:00 p.m.
Artist: Un Blonde
Last year, Montreal-based act Un Blonde (aka former Calgarian Jean-Sebastien Audet) released Good Will Come To You, a critically acclaimed album longlisted by the Polaris Music Prize. Intimately layering vocal melodies and field recordings with acoustic guitar strums, the project is a skillful and unlikely intersection between Phil Elverum and D'Angelo, delivering a breathtaking and fleeting reward.
Un Blonde will also play Local 510 (Parking Lot) at 9:00 p.m. on Thursday, and at Broken City at 11:30 p.m. on Friday. 
Time: Wednesday 2:00 p.m. – 4:00 p.m.
Artist: Yao Guai Cave
Yao Guai Cave is an experimental electronic pop project from Montreal. Signed to Pedicure Records, there are clear influences from nightcore and other technicolour trends in the genre's recent history. That said, Yao Guai Cave's output is cheeky and refreshing. Recent demos feature pristine new age sounds, a Spice Girls sample and manic, abrasive percussion. It shouldn't make sense, but it does.
Yao Guai Cave will also play Commonwealth (Downstairs) at 1:00 a.m. on Thursday.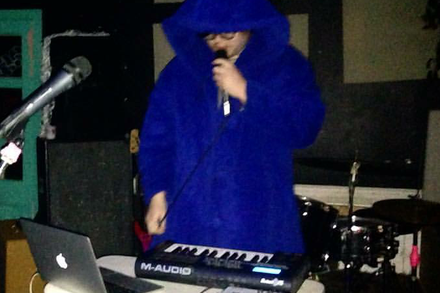 Time: Wednesday 2:00 p.m. – 4:00 p.m.
Artist: R23X
A lonely amnesiac wanders through a science-fiction hellscape, sifting through the remnants of forgotten technology for clues to his salvation. His soundtrack is a glitchy VHS tape containing scrambled ambient noises, disconnected beats and vaporous hints of a nostalgic past. If you close your eyes, R23X brings you along on his journey.
R23X will also play Commonwealth at 9:30 p.m. on Thursday. 
Time: Wednesday 4:00 p.m. – 6:00 p.m.
Artist: Expanda Fuzz
The latest project of Chris Page (Camp Radio, The Stand GT), Expanda Fuzz sees him join his bandmate Leila to make dark, stripped-down rock 'n' roll that lives up to the "fuzz" in the band's name. This two-piece would be equally at home playing to the beard-strokers at a Warhol Factory Party as they would be ignoring their neighbour's angry knocks for making too much racket in the garage.
Expanda Fuzz will also play the Palomino at 9:30 p.m. on Wednesday, and the Ship and Anchor at 3:00 p.m. on Saturday. 
Time: Wednesday 4:00 p.m. – 6:00 p.m.
Artist: Simply Saucer
Your life will change the first time you hear Simply Saucer. Criminally under-recognized, Simply Saucer were working in parallel to some of the best art-rock innovators of the late '60s through the '70s without any direct relationship to the scenes that fostered these musical revolutions. Almost by kismet, the band tread proto-punk, early psych and kraut-leaning jams while escaping the scrutiny of the Stooges and Velvet Underground-obsessed music press. That's about to end. With a slew of reissues, a novelised biography and a triumphant return to the stage, Simply Saucer are poised to wake you up to an important slice of once-untold Canadian music history—an emerging theme in the 2017 edition of Sled Island.
Simply Saucer will also play the Palomino at midnight on Wednesday. 
---
---
Thursday June 22
---
Time: Thursday 8:30 a.m. – 10:00 a.m.
Artist: Kris Ellestad
Sparse, haunting arrangements, effortless hooks, organic vocals and frank lyrics take you on an adventure into the unknown. From his debut album in 2006 to No Man is Land and 2015's Faebles, Ellestad and his restless artistic soul have daringly tackled intensely personal feelings and darkness to highlight their universality. From soaring, full-band formats to sparse orchestration and hushed vocals, he creates a moodiness and brooding energy that capture subdued instrumentation. Delicacy is expressed in soft guitar and piano embellishments. Folk guitar loops in themes that deal with picking up the pieces. Ellestad exemplifies how modern orchestral folk can convey a solid lyric and carry emotional weight.
Kris Ellestad will also play Central United Churchat 6:30 p.m. on Thursday, and the Palomino at 5:30 p.m. on Sunday. 
Time: Thursday 10:00 a.m. – 11:00 a.m.
Artist: Orthicon
Whether it was adding visual spectacle to Corinthian's set opening for Andy Stott or kicking off the celebrations at last year's Sled Island, Orthicon hasn't let us down. Their electronic-acoustic pop prowess takes shape in songs that alternate between contemplation and release. New material from Orthicon is on the way. Perhaps we'll see some at Sled Island 2017.
Orthicon will also play Commonwealth Thursday at 10:00 p.m.
Time: Thursday 12:00 p.m. – 2:00 p.m.
Artist: eschatons
If you feel like these are end times, eschatons might be your new favourite band. Wielding free-tuned guitars like weapons of mass destruction, they improvise heavy psych that's sometimes driving like a war machine, sometimes floating like the doomed survivor of a wrecked spacecraft.
eschatons will also play the Palomino Thursday at 10:00 p.m.
Time: Thursday 8:30 p.m. – 10:00 p.m.
Artist: Echo Beach
Julie Matson of Echo Beach (also Thor & Friends) isn't afraid to take the darkness of the world and turn it into a sonic experience. Through somber drones and harsh analog synths, Echo Beach churns out the type of ambient music that transports the mind to a place of shadowy introspection. There are peaceful moments, but storm clouds are always on the horizon.
Echo Beach will also play the Good Life Community Bike Shop Friday at 8:30 p.m.
---
---
Friday June 23
---
Time: Friday 7:00 a.m. – 10:00 a.m.
Artist: Old Booth
Old Booth makes the kind of turbo-paced dance music that benefits from eagerness. Whether it's a spur-of-the-moment bootleg flip, original track or mix, there's always a sense of genuine urgency in Booth's output. If fast beats with all electricity and no thirst are your thing, look no further.
Old Booth will also play Commonwealth Thursday at midnight.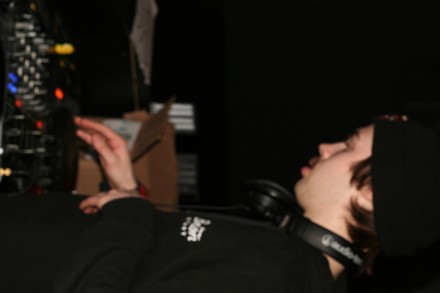 Time: Friday 10:00 a.m. – 12:00 p.m.
Artist: DJ Smoke Weed Guy
Coming straight from the "dank dungeon," DJ Smoke Weed Guy is neither a DJ nor a guy. This trio of perma-fried slackers from the nation's capital manage to subvert pop song structures with short bursts of slack-jawed post-punk that tackle topics like new bongs, failed relationships and munchie-fueled minutiae.
DJ Smoke Weed Guy will also play the Palomino at 7:00 p.m. on Thursday and Tubby Dog at 3:00 p.m. on Saturday.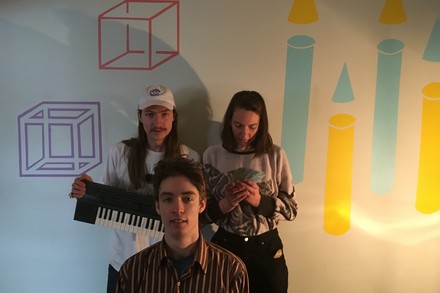 Time: Friday 10:00 a.m. – 12:00 p.m.
Artist: Protruders
Featuring members of Kappa Chow and Tough Age, Protruders feel like a supergroup capable of pushing the boundaries of punk. The band enlisted Fucked Up's Jonah Falco to produce their first release last year and the project overloads in the best way possible. Achieving a perfect balance between tradition and experimentation, Protruders will make fans of the genre gleam in excitement right before they go to business in the pit.
Protruders will also play the Ship and Anchor at 11:00 p.m. on Thursday and the #1 Legion at 1:00 a.m. on Friday night.
Time: Friday 2:00 p.m. – 4:00 p.m.
Artist: JLK and The Assassins
Jane Kasowicz (Moss Lime) makes restless music than spans from ambient to folk. Her work with The Assassins is tireless, drawing inspiration from the unreserved energy of classic rock 'n' roll with country undertones. JLK has the voice of someone who's seen some things, but swaps misery for the swagger of a dust-caked night of whiskey shots with help from her expert Assassins.
JLK and The Assassins will also play the Ship and Anchor at 10:30 p.m. on Friday and the Palomino at 6:00 p.m. on Sunday.
---
---
Saturday June 24
---
Time: Saturday 1:00 p.m. – 3:00 p.m.
Artist: Atlanteans
Atlanteans are an experimental duo who use guitar, drums, electronics, saxophone and voice to rattle their audiences. The vocals are a relatively new addition, but the taught hyperactivity of their rabid interplay is old hat. Atlanteans have found time between their split homes to record three EPs, tour Europe and start work on a forthcoming album.
Atlanteans will also play Tubby Dog at 8:00 p.m. on Saturday.
Time: Saturday 7:00 p.m. – 8:00 p.m.
Artist: Fake Palms
On an animated bed of oddball, driving, dancefloor beats, Toronto's Fake Palms are an exercise in controlled anarchy. Peppering their propulsive art-punk with distant vocal textures, turbulent fields of noise, and mathematical chiming riffs, Fake Palms are as kinetic in execution as they are cathartic in melody.
Fake Palms will also play the Local 510 parking lot Friday at 3:30 p.m. and Tubby Dog Saturday at 9:00 p.m.